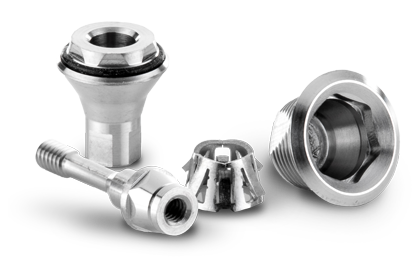 Smileloc® Implant Packages
Smileloc® technology brings an innovative cement and screw-free retrievable solution to implant dentistry. Using Smileloc®, clinicians have predictable control over occlusion and retrievability of a single crown, bridge, or full arch prosthesis while eliminating the screw access hole and the potential for residual cement.
Smileloc is made from nitinol, an alloy with shape memory properties that enable the attachment of crowns to implant abutments. The crown is secured onto the abutment by the outer Smileloc® arms that engage the inside of the coping. This implant system makes retrievability and replacement a much simpler process for the clinician with the use of the Smileloc® "key" for removal. In addition, Smileloc® brings a significant improvement in patient care, as complications caused by residual cement are no longer part of the equation.
At Dental Masters, we are excited to provide this unique, innovative solution that is compatible with Nobel Biocare® and Straumann® implant systems.
View Product Catalog
Single and Bridge Placement
Single Crown Spacing Parameters
View Clinical Procedure Manual