Snap-On Smile®
The Full or Partial Cosmetic Solution
Snap-On Smile® is a non-invasive cosmetic treatment for both full or partial arch cases. It is removable by the patient and easily snaps over their preexisting dentition. Unlike alternative treatment, Snap-On Smile® does not negatively impact the gingiva or cover the palate. Invented by a dentist, this solution was designed to provide a budget-friendly cosmetic treatment that results in lifelike esthetics. It can be easily cared for by patients and can serve as a temporary or long-term provisional, as well as a permanent, removable solution. Snap-On Smile® is a great option for patients who have the following esthetic issues: gaps, crooked, stained, or missing teeth. It is also an option for patients who are not candidates for bridges or implants.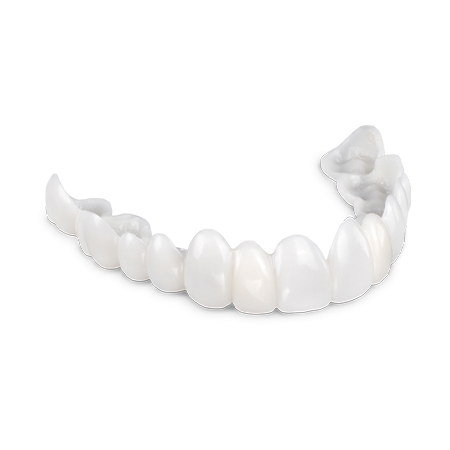 Features
Hi-Tech Dental Resin
5 In-Lab Days
Entirely Tooth-Borne – No Adhesives
Permanent or Temporary Solution
Benefits:
Budget-Friendly – Easy Case Acceptance
Extremely Thin for Patient Comfort
Long-Lasting Durability
Only Requires 2 Short Appointments
To prescribe Snap-On Smile®, download the Rx form below and include it in your case.