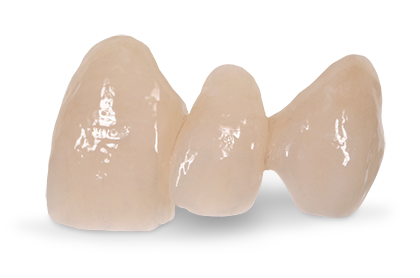 ZirTek™ ZLS
Our ZirTek™ line of zirconia offers a strong solution for all your restorative needs and is available exclusively from Dental Masters Laboratory. The ZirTek™ line of products focuses on durability and esthetics; there is a ZirTek™ product for every indication imaginable.
ZirTek™ ZLS restorations are fabricated out of a high-quality zirconia-reinforced lithium silicate that has a unique microstructure. This innovative formulation ensures high esthetics and strength. ZirTek™ ZLS offers the ideal balance of translucency and opalescence for a lifelike beauty that is comparable to IPS e.max®. It surpasses the strength of IPS e.max® and provides dependable durability with more than 500 MPa. ZirTek™ ZLS matches all 16 VITA® Classical Shades and produces an attractive chameleon effect for in-vivo blending.
Along with the rest of our ZirTek™ line of restorations, ZirTek™ ZLS has a lab turnaround time of 5 days and comes with a 7-year warranty.