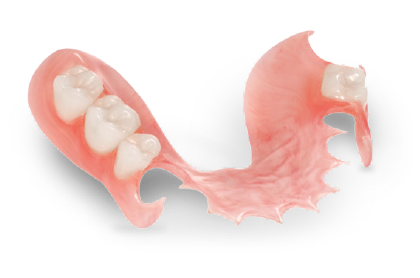 Smile Rite™ Clear, Tissue, or Enamel
Smile Rite™ Clear
Smile Rite™ Clear is the ideal partial for the partially edentulous patient. For patients seeking an esthetic alternative to the traditional cast partial, look no further than Dental Masters' Smile Rite™ Clear.
Effortless reline and repairs
Superior flexibility for maximum comfort
Ability to easily add teeth
---
Smile Rite™ Tissue
Smile Rite™ Tissue is composed of an advanced thermoplastic and provides patients with excellent color stability. Its esthetic translucency makes Smile Rite™ Tissue virtually invisible in the patient's mouth.
Advanced thermoplastic
Lightweight and flexible
Stain and odor resistant
---
Smile Rite™ Enamel
Fabricated to seamlessly blend with patients' surrounding dentition, Smile Rite™ Enamel is formulated from acetal resin to match the classic VITA shade guide, and provides the most natural esthetics available.
Allergy and lead free
High tensile and flexural strength
Lightweight alternative to cast partials